Become a Coordinator
Anyone can lead a Financial Peace University class. Simply find a meeting place, set a start date, order your membership, and invite friends or members of the community. Yes, it's that simple!
Start Now
Leading a Class is Easier Than You Think!
What Will I Get with My Membership?
DVD Library
Leader Guide
Online Tools
Online Access to Budget Coaching
Membership Materials
Support of an Advisor
Order Now
See How Our Coordinators Change Lives
Resources and Support Along the Way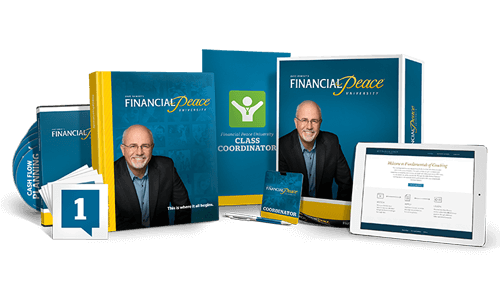 Get Started With a Leader Membership
The Financial Peace University leader membership includes everything you need to successfully coordinate your class. You will receive one membership and special online access to budget coaching sessions to help you feel fully prepared for your first class. This package comes with DVDs of all nine lessons, a coordinator guide, class discussion cards and more. Buy Now
Have you gone through FPU?
You already have a class membership, so you just need the FPU Leader materials to get started. Buy Now
What kind of impact does FPU have?
Families that have gone through FPU
2,700,000
Average turnaround in first 90 days
$8,000
The Turnaround Tracker
More than 2.5 million families have changed their lives through Financial Peace University (FPU) since it first launched in 1994. The tracker is a real-time calculation of the estimated turnaround that occurs each time another family signs up for FPU.
The average family attending FPU pays off $5,300 and saves $2,700 in the first 90 days.
Over the last 20 years, that adds up to over $6.5 billion in savings and almost $13 billion in debt paid off.
While you've been reading this, another FPU family just paid off their car loan and saved $1,000.
Sign up to be an FPU coordinator and join the movement that's changing the nation!
What could the people of God do for the kingdom of God if they were debt-free?

Anyone can take control of their money if they'll just follow God's ways of handling it.

The typical American could not cover a $5,000 emergency without having to borrow money.
Do you have questions?
Do I need any special type of training? Do I need to be an expert in handling money to lead a class?

Not at all. Dave and his team carry the weight of teaching through the DVD lessons. Your main role as a coordinator will be to help couples and individuals work through and apply the principles to their specific situations. You are a coach and an encourager who will help them walk through real life change.

What is the typical impact that you see from people taking the class?

The average family sees an $8,000 financial turnaround in the first 90 days by paying off $5,300 in debt and saving $2,700.

How much time is involved to prepare for the class

You'll want to read the materials from the Coordinator Guide. If you dedicate 30-45 minutes each week to familiarize yourself with the video and the handbook, you will go in prepared to make a difference!

Where should I lead the class? In a church building, a community center or my home?

An FPU class can be hosted in a church, in a home or out in the community. The majority of coordinators choose to lead a class at their church building because of the opportunity to impact church culture, reach out to the community, and help fellow congregants. Leading a class in a church building has proven to have the most impact, but coordinators have also had great success leading in a home or out in the community.

Do I need to attend the class before leading it?

It's not necessary to attend the class before you lead it. Many of our first-time coordinators are attending the class for the first time when they lead it!

What is the fastest way for me to get started?

Call a Stewardship Advisor at 

877.378.2667

877.378.2667. Our professionals can walk you through the simple steps to get started.

What if I am asked a question I can't answer?

"I don't know" is a perfectly fine response to questions you can't answer. There are a number of resources on daveramsey.com or via one of our advisors that are available to answer specific questions. Your job is simply to provide a learning environment for the class attendees.

Will I have to speak much in front of the room?

You will need to speak, but it is minimal and we provide you exactly what to say in the Coordinator Guide. Some coordinators speak while sitting at the table with the group, others from the front of the room. How you choose to share information with the class is up to you.

How can I find out how much leading a class will cost?

Call

877.378.2667

877.378.2667 to speak with a Stewardship Advisor and learn more about special pricing and bundles.

Will I be required to answer money questions or counsel people?

Dave and his expert teaching team do all of the teaching via the videos, so they're considered the experts. You are not required to answer any money questions or counsel people outside of working through the material that is already in their hands (their FPU Membership).

What if I'm not debt-free?

No problem! You can help others whether or not you are debt-free. Usually the class will benefit from having a coordinator who is taking part in the FPU journey with them.

Who does the teaching? Is that me?

Dave Ramsey and his expert teaching team are the teachers of the class. The materials provided through DVDs, books, online content and other FPU tools take on the burden of teaching. Your job is simply to provide a learning environment for the class attendees.

How do people attending the class sign up and buy their materials?

When you register your class, an online class page will be created. Coordinators will be given a link to that page and can send it to potential class members. They will be able to register for the class there. Class materials can be purchased from either that registration page or through the church.

How does this class compare to other similar financial classes on the market?

FPU has a proven track record of 20 years and has helped over 2.5 million families save over $6.5 billion and pay off almost $13 billion in debt. Our program is one of the best-selling classes in the country, and we have the ability to track participants' progress. Some large churches have created their own class, but most returned to FPU after not seeing the same level of behavior change.

Who can help me if I'm unsure how to get started, or if I get stuck along the way?

You can work with an advisor by phone or through email.

What if we do this but no one joins the class?

Your part in this is to do all you can to get the word out. We can help you with that! You'll be able to use downloadable resources for coordinators and talk with your Stewardship Advisor to develop a solid communication plan. If you don't have anyone sign up, we will work with you to choose a different date and determine what will give you the best chance for success.

Is there a minimum number of families I need before starting a class?

There is no minimum number of families. We have classes of all sizes, large and small. Each family who attends is significant.

Do I get paid for leading this class?

Coordinators are volunteers and enjoy the benefit of seeing lives changed as they lead them through the class. The lasting rewards gained by serving others and helping families break the bondage of debt are spiritual rather than material.

I'm thinking about bringing this program to my church. What do I need to do?

Call a Stewardship Advisor at

877.378.2667

877.378.2667. Our professionals can walk you through the simple steps to get started.

What's the difference between this class and Dave's The Total Money Makeover book?

FPU is built on the same principles, but takes them a step further by breaking everything down into manageable weekly lessons with action steps. Real life change (habit formation) happens intentionally, over time and usually within the context of community and the support of others.

How long is each class?

It is best to plan at least an hour and a half for each class. Two hours is even better. The videos themselves take at least an hour, and the small-group session (the most important part) needs at least 30 minutes so that people can share and communicate.

How many lessons are in the series?

There are nine total lessons with lots of additional resources for continual guidance and education.
Load More